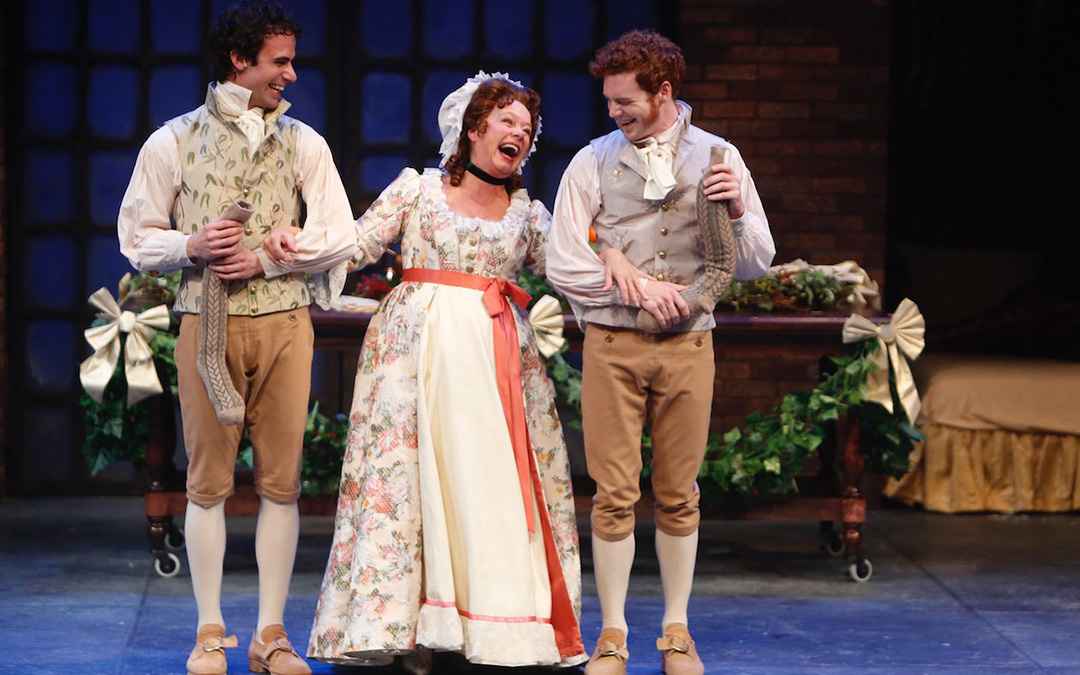 Adapted by David H. Bell from the novella by Charles Dickens
Repertory Theatre of St. Louis
2016
Scenic Designer: Robert Mark Morgan
Costume Designer: Dorothy Marshall Englis
Lighting Designer: Rob Denton
Photos by Jerry Naunheim Jr.
",,,gorgeous costumes that include both period precision and fabulous fantasy…"
—Judith Newmark, St. Louis Post-Dispatch
"Further enhancing the stylish look of proceedings are the handsome costumes designed by Dorothy Marshall Englis, from the tattered togs of street urchins to the fashionable finery of Marley, Scrooge's nephew Fred, his former boss Fezziwig and others."
—Mark Bretz, Ladue News
"…intricately detailed costumes…"
—Tina Farmer, KDHX
"Dorothy Marshall Englis has designed a glamorous array of costumes…"
—Steve Allen, Stage Door St. Louis
"Dorothy Marshall Englis has the monumental task of costuming this large cast, and does so with aplomb. "
—Chris Gibson, Broadway World
"Scenic Designer Robert Mark Morgan, Costume Designer Dorothy Marshall Englis, and Lighting Designer Rob Denton have all conspired to make this a strikingly good-looking and atmospheric production…"
—Chuck Lavazzi, Chuck Lavazzi
"Dorothy Marshal Englis's costumes are also superb, ranging from the authentic Victorian-era costumes of most of the ensemble to the more fantastical costumes worn by the various ghosts, including a truly chilling Ghost of Christmas Future."
—Michelle Kenyon ("Snoop"), Snoop's Theatre Thoughts
"I enjoyed the set (Robert Mark Morgan), lighting (Rob Denton) and costumes (Dorothy Marshall Englis). Their work was a charming demonstration of period while bringing creativity to the Ghosts' entrances and appearance."
—Erin Karll, OnStage
"Dorothy Marshall Englis dressed them in a splendid array of Victorian clothes, she's careful too to mark the style changes when Ebenezer flashes back to Scrooge's younger days"
—Bob Wilcox and Gerry Kowarsky, Two on the Aisle
Click any image for a larger view.